Wedding Dash 1 - Level 4.7
Expert Walkthrough
Wedding Plans

Gerbera Daisies
Asian Asparagus / Spinach Quiche
Fettucine Alfredo

Scoring

Goal: $8000
Expert Goal: $10500

Upgrade

Speedier Quinn

Guest List

Chuck [Bell Table]
Diane [Bell Table]
Chuck [Bell Table]
Diane [Bell Table]
Chuck [Bell Table]
Diane [Bell Table]
...
Allison [Dove Table]
Betty [Allison]
Derek [Flower Table]
Betty [Derek]
...
Ethel [Derek]

Ernie [Ethel]
...
Chloe [Heart Table]
Allison [Derek]
...
Al [Chloe]
Diane [Chloe]
...
Chuck [Heart Table]
Diane [Heart Table]
Betty [Derek]
Derek [No Bell Table]

Table Setup
---
Walkthrough
Group 1
Group 2

(Feel free to start seating Group 2 while you serve the Chucks. Just don't take their gifts, or you will break both the food chain and the gift chain!)

Leave Chloe seated until seating Al [Chloe] and Diane [Chloe] with Group 3.

If you need to, leave Derek seated at the Flower Table until seating Allison [Derek] with Group 3. (There will be another Derek in Group 3, but Allison may be getting irate.)
Group 3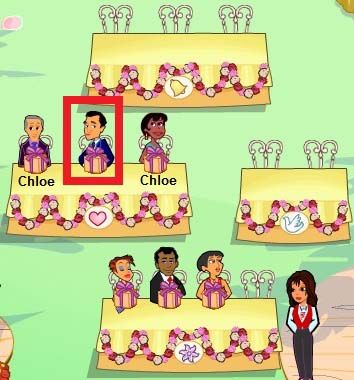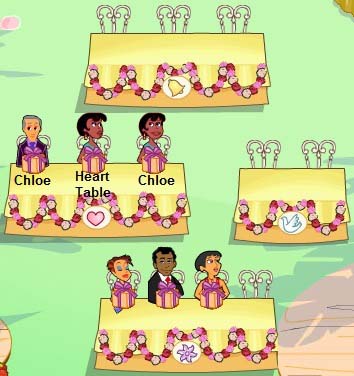 Seat Chuck [Heart Table] in the middle of the Heart Table, serve him, and get rid of him. Replace with Diane [Heart Table].
Note: The game likes to give me at least one reseat request I can't fill in this Group... if this happens to you, then it's your choice: Pick up the offending guest and drop him/her right back down to get rid of the request, or ignore the request until you can fill it (which may not be until everyone else has been served cake).
---
My Best Final Score
$13060
Original images and descriptions are the property of PlayFirst Games.
Walkthroughs ©2012 margotbean.